All praise and thanks to God! Our miracle son turns 1!
Friends, please join us in praising and thanking God for the miracle and blessing of Liam's first birthday!
He is perfect and healthy in every way - we cannot begin to express how thankful we are for the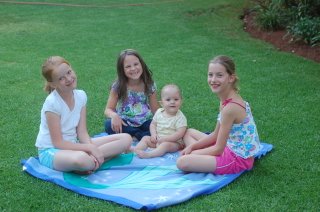 miracle of his life! Please will you join us in thanking God for his health and development? He has come so far in the last year, from 1kg at birth to a healthy 10kg's. He still has some way to go, but there is nothing that love, care and a bit of occupational therapy can't sort out!
Here's the
story of his birth
and here are some
moments from this first year of his life
. And here are
a few posts specifically about Liam the Great
!
As you will know Megan and I fast and pray each Friday for children and premature babies, and their families of course, so it is wonderfully fitting that Liam's first birthday falls on Friday the 16th of November 2007. Today we will remember friends that we have made on this journey - some who have experienced the joy of a frail child growing strong, and those who have had to endure the sorrow and pain of loosing their precious little one.
Once again, we are so grateful to all our family and friends we have been so caring, patient, and supportive over the last year. It is a great blessing to be loved!
So, if you would like to leave little Liam a message please do so in the comments, or email it to me directly (as some have done already! Thank you!) We'll print and keep them for him to read in years to come.
A very happy dad!
Labels: birthday, Laim, Liam, thanksgiving