Do you still remember?
Today I had the privilege of taking 7 friends from the Duke Divinity school to Constitutional Hill and the Apartheid Museum in Johannesburg.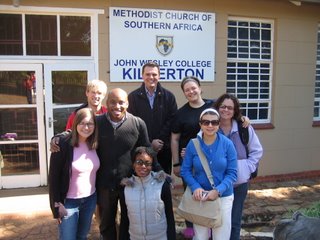 I have done this trip many times. Each time I do it, it brings back painful memories.... It is worthwhile, it helps me to remember.

Do you remember the services for the 'young lions' in Soweto? Do you remember Paul Verryn putting you between two rival factions, or in the home of an 'impimpi' to ensure that no one will try to harm him? Do you remember tear-gas and pepper spray on the WITS library lawns? Do you remember being a peace monitor with nothing but a blue flag and a blue bib to put yourself between the people and the police - both equaly charged with emotion. I remember...

While it is always sad to remember the need for those events, there is some way in which I remember them with fondness. We had a sense of purpose, a real sense of doing something worthwhile. In Service Training meetings were spent making a real difference in some strife torn community or another. We knew that we were a part of something BIG! Our SYNODS were not spent debating how we will keep gay people out of the Church, or what kind of clerical colar an Ordained Deacon can wear. It seems that the Church has lost something of that energy and vigor in recent years.

Today, however, as I was leaving the Apartheid Museum I was brought to tears again. I have been there 8 times, it never fails to happen. Partly because the reality of our atrocious past is so real (and in many ways very little has changed), and partly because I cry at the drop of a hat. This time they were tears of joy though! As I was leaving I encountered a group of Jubilant school Children. Their visit to the Museum was an exciting day out! They do not remember this past - they only know the future. They had come here to discover their past, so that the future will never be the same!

There is still a lot of work to be done. Let us never forget where we come from. Let us never forget where God is taking us.

There is much left to do, for their sake, and ours.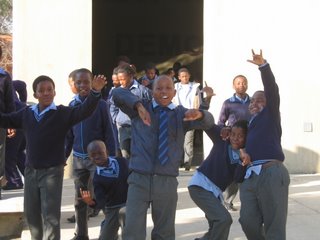 Visit the Apartheid Museum online.