Are you facing a financial crisis? A resource to help you - Dr Wessel Bentley
Last year (2009) was my second year labouring as a minister in the corporate environment. It has been an extremely interesting and challenging experience! In many ways I have rediscovered my passion for Jesus and his ways (particularly for encountering people and systems with God's transforming love so that God's justice and mercy may transform individuals and society).

I remember many years ago there was a huge thrust to mobilize prayer and missionaries to go to the 10/40 window to engage in mission and evangelism efforts among some of the 'unreached people groups' of the world (i.e., those regions where the Gospel had not yet been shared in a meaningful manner).

Since then I have come to discover that there is a massive 'unreached people group' right under my nose! These are the people in the 9 to 5 window! It has been an incredible awakening to discover just how little intentional ministry there is to support and care for persons during their workday!

I am writing the last two chapters for a book on this subject for Struik Christian Media this week. So, keep an eye on this space for more!

Well, 2009 was a year where this kind of ministry was more necessary than most other years! 2009 was an incredibly tough year for businesses!

My two primary orientations as a minister in the marketplace are 1) to help persons to understand God's loving purpose for their abilities, their time, and their location, and 2) to ensure that they find creative and practical ways of utilizing these gifts in order to see God's Kingdom established (a Kingdom in which God's loving will is experienced - not just preached!) I frequently ask my Christian friends - 'when Jesus said that he came to bring "Good News to the Poor", what did he mean? What IS truly good news to the poor?' I can tell you, it is not a sermon! It is work, dignity, security, justice, health care, food, shelter etc. People need to taste the goodness of God before they will believe propositional statements about His nature, love, and intention.

Last year was a challenging year to get alongside business people. The recession in the USA spread throughout the world, and it impacted many people in a very negative way. At times such as these we need encouragement, wisdom, guidance, hope and care.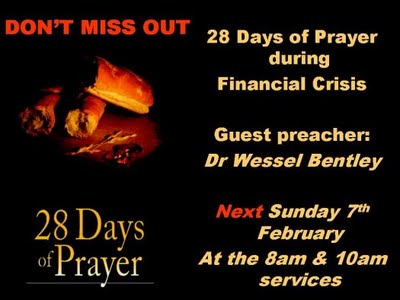 One of the resources that I found most helpful in my ministry in the marketplace is
Wessel Bentley's
book
28 Days of Prayer during financial crisis
. Wessel is an incredible pastor and theologian in a large Church in Pretoria. His devotional book is filled with practical insights that come from personal experience
(read his book to find out more about that
).
What I liked a lot is that Wessel's theology is so sound - he avoids the temptation to trivialize the struggle that a lack of money can bring by offering 'inspirational quips' or 'quick fixes'. Moreover, he does not present a 'prosperity' teaching approach to getting through financial crisis (I am yet to see sustainable and lasting results from prosperity teachings - more often than not the only person who benefits is the preacher! Truly sad! This is not the way of Jesus - it is heresy). Rather, Wessel's book grapples with the issues of financial need, and offers real, practical, sustainable perspectives that can help a person in financial crisis and carry them through it.
So, Wessel's book has my endorsement! You can find out more
about the book here
.
In this regard I want to make you aware of an important event. If you live in the Gauteng Area please consider visiting the Northfield Methodist Church on the 7th of February. Wessel will be
sharing at the services
on this topic. I am certain that it will be an incredibly meaningful time! For more information please visit the
Northfield website here
.