The most stylish ride in the world....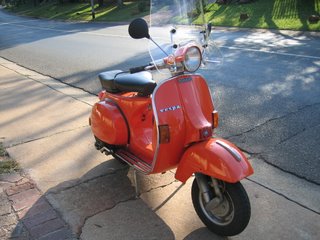 There are many motorcycles in the world. But, there is only one on which you can ride in a suit (without damaging your shoes) and arrive at your meeting in style! Not that I ever wear a suit... But still, the idea is great!

Of course, the motorcycle I am referring to is a Vespa! I have owned quite a few over the years. My first one was a 1972 - 125 Primavera, I also had a brand new 2003 model Vespa Originale, a 1978 PX200E, and my current Vespa is this Orange (yup, that is orange!) 1980 Vespa PX200E. It is an amazing bike that truly turns heads! The orange is to make sure that I get seen wherever I drive!

I found this VERY COOL Vespa video on Youtube. I won't be trying this on my Vespa anytime soon!