Back on 'Red square' (Stellenosch)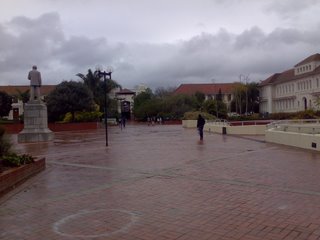 This morning I came through to Stellenbosch to have my card re-activated to use the library. As a past student (worked on my Doctorate here) and a local minister I am graciously granted use of the University facilities. So, I have a new card and a few books to read!
This photo was taken on 'red square' (rooi plein in Afrikaans). Here in this bastion of former Afrikaans conservatism the students poke fun at the institution by calling the main 'sqaure' on the University Campus red square (supposedly because of the red brick floor). At the centre of the square is a statue of J.H. Marais (not Stalin).
It is great to be here again! I remember WISHING that I could complete my PhD and come back here some day! Well, the PhD is done, and I'm back!