1st generation Apple iPhone running the new 2.0 (3G) firmware in South Africa (and working on Vodacom AND MTN!)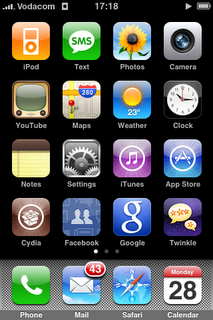 First, off, huge props to Justin Hartman - I believe he is the very first person to have upgraded a first generation iPhone to the new 2.0 (3G) firmware in South Africa! Justin upgraded and unlocked his first generation iPhone and posted about it on his blog on the 21st of July.

I followed him by a week or so, I upgraded and unlocked my first generation iPhone (8Gig model, then at firmware 1.0.2) on Saturday the 26th of July '08. Let me say, right off the bat, that this was probably one of the EASIEST upgrades I have ever done! BUT, there are two complications (which I hope to describe and sort out below). Let me first explain the complications, and then I'll show you how to unlock your iPhone.

Complication number one is that the pwnage tool which I used can only run on the Apple Macintosh (version 2.1 can be downloaded here)... I believe that they are releasing a Windows version (that only runs on Windows XP), but it is not quite as slick and simple as the Mac version.... So, if you have an original iPhone and want to unlock is EASILY find a friend who has a Mac!

Complication number two is that once your iPhone is unlocked you may struggle to connect to the internet using the EDGE service if you have a prepaid Vodacom sim card, or a sim card from MTN, CellC or Virgin! DON'T PANIC! I found a way to *hack* that... But it does require a few 'extra skills' in the terminal, or at least a basic knowledge of FTP and a secure FTP client... I'll tell you how to fix this below.

1. Upgrading to firmware 2.0 and unlocking your 1st generation iPhone for use in South Africa.

I simply followed this simple tutorial (which has links to all of the files that you will need) and it took me about 20 minutes from start to finish to unlock my iPhone... Once again, thanks to Justin Hartman for the heads up.

Simply follow the steps carefully, don't interrupt the process, AND MAKE sure you install the Cydia package during your installation. You will need this to resolve the EDGE problem!!!! Please note the instructions in the tutorial about the boot manager (I stuck with my original boot manager), and also pay attention to ticking the 'unlock' box.

Once I had unlocked my iPhone, connected it to iTunes 7.7, it was up and running within seconds! I had my 'prepaid' Vodacom sim card in it (I had some preloaded data bundles to squash). I imediately noticed that I I could not connect to the internet using EDGE... My wifi on the iPhone worked fine!

2. How to solve the problem with EDGE not working on your upgraded iPhone.

When I tried to connect to the internet for mail, to browse the web using Safari, or the App store etc., I kept getting the message ?Could not activate cellular data network: You are not subscribed to a cellular data service? So, I thought 'OK, go into the Network settings and change the APN to 'internet' so that you can connect...' No such luck! Apple has removed the 'tab' that lets you adjust your cellular data internet settings! DON'T PANIC!!! I found a way to enable that again (which I will show you below).

So, I started searching for solutions on the internet. Now, let me say, the easiest solution by FAR is the one that Justin has in the comments on his post today (see Comment number 2) - in short, activate wifi on your iPhone, connect to your wireless access point, navigate to http://unlockit.co.nz, set up a custom APN (in the case of Vodacom it is 'internet'), generate the '.plist' file, download the configuration, install it, reboot your phone and you should be able to connect using your sim card (of course if you're an MTN or Cell C subscriber just enter the MTN or Cell C APN, and a username and password (if they're required) and viola - I have found, however, that with my MTN sim card I simply entered 'internet' in the APN field, left the password and username blank and it worked perfectly!)

Of course there is one HUGE problem with this solution... If you don't have wifi internet access you're stumped... Of course if you had a mac you could share your internet connection via wifi setting up your Macbook as an access point... But that's another tutorial (mail me if you want to know how...).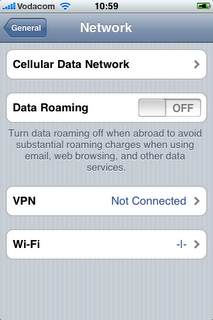 So, there is another solution, and I think this one is much better! In this solution you 'reactivate' the Cellular Data settings in the Network settings tab which means that you can change the APN, username and password etc., on your iPhone without needing an internet connection... Why is this important? Well for someone like me who flies overseas, when I buy a Vodafone sim card, or some obscure carrier in Israel, Malaysia, or the Ukraine, I can simply put the sim card in, update the APN and log in information on the fly and have my email, Microsoft exchange calendar and the rest up and running in a few seconds...

Right, so how do you re-enable the Cellular Data network settings?

1. Make sure you have installed OpenSSH on your iPhone.
2. Go to 'settings' on your iPhone and enable wifi. Set up a connection to your Macbook, or your wirless router, via wifi.
3. Once connected on the iPhone get your IP address (simply click on the blue arrow on your connected wifi connection on the iPhone and it will show you your IP address under DHCP).
4. Use cyberduck (or some other FTP client) to set up a secure SFTP connection to your iPhone's IP address. In my case the IP address was 10.0.2.7 All 'vanilla' 2.0 iPhones have the following log in information (another bit of *hackery*) username: root password: alpine (I would suggest you change that at some stage BTW - spelling fixed 23 August 2008. Thanks for spotting this!). So, simply SFTP into your iphone using the root account.
5. It will take a few minutes to connect the first time around (your iPhone is generating security keys etc.). Reconnect when disconnected, it should indicate that the security key is unsigned... simply accept it.
6. Now, navigate to /var/mobile/Library/Carrier Bundle.Bundles/ In that folder you will find a file called 'carrier.plist' - if you know how to conver the file from binary to text and want to edit it yourself, drop me an email and I'll tell you where and what to change....
7. Back up your current 'carrier.plist'
8. Download my already converted and edited
carrier.plist file here, simply FTP my file onto your iPhone to /var/mobile/Library/Carrier Bundle.Bundles/
9. Once you've replaced the original file with my modded file, disconnect your SFTP connection and reboot your iPhone (i.e., Power it down and start it up again).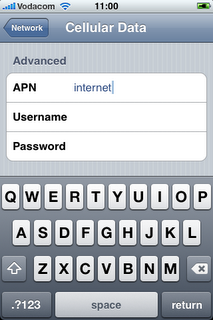 Now when you go to 'settings', 'General', 'Network', you'll see a new tab called 'Cellular Data' viola! You can edit your APN information from there!

I hope this helps!

By the way here are a few 'killer apps' on the new iPhone firmware (and Appstore):


Microsfot Exchange works!!! At last I can update my calendar, email, address book etc. from the office exchange server.
Location based software and mapping works (it uses cell towers to triangulate) - not 100% acurate, but it does work.
The App store works in South Africa! I have downloaded Twinkle for Twitter, the Google App, Facebook App, a Bible, some games etc. You can either download them directly on the iPhone, or connect via iTunes on your computer.
Visual voice mail works if you're using a Vodacom sim card.
The AIM instant messenger is also great (it allows me to chat to friends and family who are using iChat and AIM... I just wish there was a Skype or Fring client since most South Africans use Skype...)
On a final note, I get quite a few persons emailing me to ask if the iPhone is worth it... It sure is a handy and wonderful device! However, I need a reliable, business oriented phone for most of my work, so I still use my Nokia E90 as a primary phone. My iPhone has my work sim card in it to make and receive work calls. I use it as a great, handy, entertainment device (I listen to audiobooks and podcasts while driving, I update my twitter status and check facebook when I have a minute to spare) - but when I need to write an email, or do some work, I turn to the E90.
Who knows, when Vodacom release the 3G iPhone later this year I may be tempted to 'cross the floor', but for now, my first generation iPhone has a new lease on life, everything works and I'm loving it as a second device.
Technorati tags:
iPhone
,
South Africa
,
Vodacom
,
MTN
,
fix edge
,
fix firmware 2.0