[Pic] It's amazing when you just run into a HUMBLE international sports star... There he was at my daughter's school!
This afternoon I nipped out to fetch my 8 year old daughter from her school here in Pretoria.  When I arrived I parked next to a very nice convertible Audi with the registration LR-05 GP.  There was a huge commotion on the go among the kids... I wondered what was happening, but thought nothing of it... Then suddenly there was Lucas Radebe!
He had come to fetch his niece from school.  Can you imagine the conversation that led to him fetching his niece!?  I'm sure that his grandmother, or mother, was involved somewhere along the lines!  ha ha.  "
Lucas, your aunty wants you to fetch your cousin from school on Friday afternoon
".  "
But, gran, I am a very busy and im

portant person!

", "

no Lucas, you are my grandson, so be there at 3pm!  Don't be late!

"
There is something very humbling about being around one's family!  I often feel that dichotomy in my own life.  In some circles I am treated quite differently to how my mom treats me!  I think we all need a bit of reminding that we should "
not think more highly of [ourselves] than we ought to, but in humility consider others better than yourself
" (Phil 2:3-5).
Anyway, Lucas Radebe was a nice guy.  He was polite and patient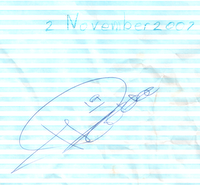 with hundreds of kids swarming around him - he even took the time to sign  a piece of paper for my 8 year old daughter.
Now I know why the Leeds band
Kaiser Chiefs
decided to name their band after his team when he was in the UK.
Technorati tags:
Lucas Radebe
,
Kaiser Chiefs
,
famous
,
signature
,
humble