Africa has a way of making EVERYTHING look better. It must be the nutrients in the soil - just look at these pictures.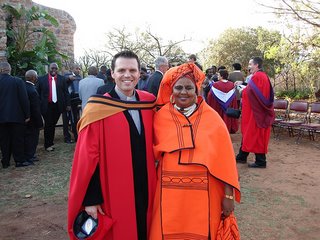 I was looking through some photos in iPhoto this afternoon. My eye was drawn to a photo that was taken of one of my students, Vuyelwa Sebolao, and myself. Vuyi, as she is fondly known, is wearing the traditional orange dress of a married Xhosa woman, I on the other hand am wearing the traditional red doctoral gown of the married nerd person....

The point is this, doesn't Africa have a wonderful way of livening up even ordinary occasions!? I have been to quite a few academic ocassions across the world.... The plain black fur lined hoods and gowns of Cambridge, the three barred tassled gowns of Northwestern University in Chicago and the bright red bath robe that I get to wear!

Wessel (pictured in the back, on the right in his red bath robe... He has a nicer hood than I do - purple, mine is porno gold...) and I often joke and say that the red of our gowns is actually the blood that was squeezed to earn the degree... Ha ha!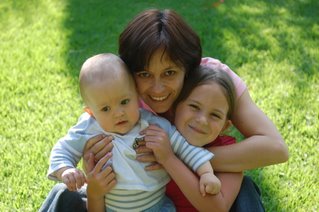 Just to prove that everything truly is more beautiful in Africa - here's picture of my wonderful family, taken on our lawn this afternoon. Liam, Megan, and Courtney - aren't they just wonderful?

Here's a photo of little Liam, enjoying the feeling of the African sun, on his African skin, as he sits on green African grass... A good African son!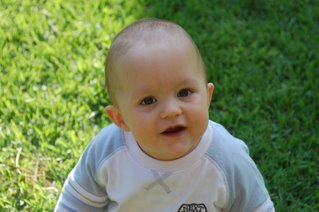 Who would have thought, 11 months ago, that he would be so healthy, happy and perfect? I tell you it's the nutrients of the African soil!

Technorati tags: family, Liam, Premature, Doctorate, African Tradition