Who is welcome at His table?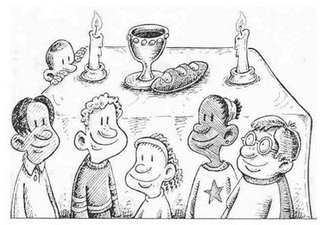 Last night we confirmed 24 young people at the Church where I am a member and preacher, Bryanston Methodist Church. It is an incredible community! There are people with such passion, passion for Christ, passion for Christ's mission, and passion for this world. What amazes me even more is the flexibility and gentleness with which they handle my constant challenge. I always love being a servant at our community's table - there is a diversity of the kind that can only be found in God's rich Kingdom.

The challenging quote below came from an email message sent by Rev Colin Garvie. Colin, this is magnificent! Thank you so much for sharing it!


My mentor in seminary had a saying when she welcomed people to the table that I believe is applicable here: "

The question is not whether you are invited to the table for God invites everyone. The only question that remains is whether or not you are willing to sit at the table with everyone else whom God invites.

"

I use this saying each week when I welcome people to the table and it perhaps summarizes my position relative to grace (though I'm not sure I grasped that previously). What I find astonishing is that when some church members hear of "amazing grace" or universal grace, they become angry and adamant: they simply "don't think it's fair" that those "other people" get into the kingdom along with them. Will such an attitude exclude them? I don't know and it's not my concern. Ultimately, all this is up to God and I don't worry about it---mainly because I believe "unconditional love" means precisely that, unconditional.

- Janet Weiblen, PRCL-L, 1 October 2007


Labels: communion, hospitality, Welcome