Visionary leadership - it takes courage!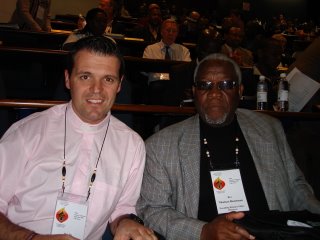 This is a picture of me with Dr Ernest Baartman, the visionary leader who founded the Black Methodist Consultation in 1975 (you can read my Oxford paper for more on this).

This was visionary because he had the courage to see what the Church needed (black leaders) in an era when others could not, and would not, see it. He was visionary because even though he knew this would be a dangerous, and threatening, endeavor, he was sustained by what few others, even many of his black colleagues, could not see - the vision of a predominantly black denomination, in a white dominated country, lead by black leaders. This could have cost him his ministry, but because he could see what God wanted he swam against the stream, and did the extraordinary thing that helped to transform our Church for the generations that followed.

It takes great sensitivity to see what others cannot see. It takes courage to make that vision become a reality, even in the face of great adversity and opposition.

I witnessed such leadership briefly at our Conference last week when Dianne Moodie courageously reminded the Conference of the pain and struggle that clergy and laity experience because of the Church's rejection of people - the majority could not feel her pain. I heard it in the voice of Alan Storey as he urged the Church to create a small ray of light in the midsts of darkness, by allowing 1 minister and 1 church in every District to openly minister to gay people with the Church's blessing - the majority could not see the need, I wonder what will happen to all the gay people who are Methodists in our nation? Will they simply give up and leave the Church? I saw it in the bravery of Mbuyiselo Stimela, the only Black minister who has openly supported the cause to make the Church more hospitable and welcoming to gay persons of all races and colours - our colleagues could not see his courage, instead they have threatened and belittled him. I saw this in my friend Barry Marshall who argued with passion that the Church cannot be in 'conversation' over the matter of persons with a same gender orientation while the voices of these people are silenced, rejected, and ignored - the majority did not hear the silence, but at least he spoke. I am seeing vision in the correspondence of my friend Kevin Light who can no longer compromise the community that he serves by ministering 'through pastoral loopholes' - sadly I fear that he may move on from our Church, or be forced out, perhaps he will lead many to follow him. He is right when he says that the only persons who are made vulnerable by 'loophole' ministry, are those being ministered to. Ministers can claim ignorance at transgressing an unspoken law, but once a pastoral act is deemed unlawful, it is those who are ministered to that bear the brunt of such rulings.

I don't know if I have the courage, sensitivity, or insight, to see what others cannot see, and make that vision a reality.

Of course I have read about such vision many, many, times in Scripture, in the slave Moses who leads slaves to a promised land. In a sheep herd, David, who slays a giant, because God says he can. In a teenage virgin who gives birth to a saviour, even when everyone else believes that she is crazy adulteress. In the life of a King who is born in a stable, who does not destroy his enemies but dies for them... Yes, these are all visionary leaders - people who see what God sees, and then find the courage to make God's vision a reality. In fact, one of them is God... Thank goodness God can see what others cannot. If it were not for that admirable quality I would never have found His grace!

We need more people like Dr Baartman, like Dianne, Alan, Mbuyiselo, Barry, and Kevin...

What follows is a reflection of how this principle relates to a particular passage from Scripture... By now you may have given up reading... I won't hold it against you!

Trevor Hudson and Jenny Hillebrand left a comment each, a few posts back, thanking me for my frequent blog posts - a friend of mine calls blogs 'personality spam'! I think he is right, most often my posts are simply a means of processing my feelings, thoughts, fears, desires, and hopes... If any of it is wortwhile to anyone else that's a huge bonus! Thanks for reading.

Today I sat with one of our students, Nkosinathi Nombula, preparing him for his New Testament 2 examination. One of the questions in the exam asks the student give advice to a woman who has read Ephesians 5:21-33. She is being abused by her husband and has come to believe that she must continue to endure the abuse because this section of the Bible says she must submit to him and respect to him. Thankfully the examiner understands that in order to get a more responsible insight into what the Pauline text is saying to its readers one must read it in the context of the issues that the whole of the letter to the Ephesians is addressing, and particularly within the context of Ephesians 5 and 6. If you have the time please read Ephesians 5:21-33 and ask yourself what advice you would give the abused woman. Well, Nombula and I spent some time working through the question and established a few things. First, I reminded him that the letter to the Ephesians must not be directly related to the 'popular' understanding that Paul was a paternalistic chauvinist - not that Paul was liberated in the modern sense. However, it is important not to read the text too simply from within the framework of our contemporary prejudice of Paul's views of women. It is likely that this letter was not written by Paul himself, but by a later, more sophisticated Pauline author or redactor - simply because of the complexity of the grammar, sophistication of the ecclesiology, and because of the similarities in content and structure to the letter to the Colossians, upon which many scholars believe the letter to the Ephesians is styled. Secondly, we were reminded that the central issue in the letter to the Ephesians was that of God's purpose for the Church which can only be achieved by the costly sacrifice that will be necessary in order to be truly united (many scholars agree that the 'hermeneutic keys' (i.e., those keys that unlock the interpretation of the rest of the letter) are Eph 1:10 and Eph 4:13). So, the author crafts his argument about the cost of unity between Jewish and gentile believers in the first few chapters of the book (a mixture of admonition, prayer, and encouragement). Then between Eph 4:1-6:20 the author gives practical suggestions about the cost of this unity. Now, this is where the radical bit comes in! Many have emphasised Eph 5:22 (that wives must submit to their husbands), yet the emphasis of this passage is to be found in the dynamics of the four examples of costly unity that are presented. The dynamic is fundamentally about power and powerlessness! The power of husbands, versus the powerlessness of wives in that era - the emphasis is NOT just upon the wife submitting to her husband, rather here the author takes a bold and radical step of confronting the powerful with the truth that as long as they oppress the powerless, they abuse and harm themselves. This must have taken courage in an age when the authority of men went unquestioned. But of course, the powerless are empowered when the powerful curb their power, so he also has some advice for wives. Next he speaks about the relationships between the authority of parents over their children. Can you imagine how the respectable members of the Ephesian Church would have reacted to being told they must not exasperate their children, as if their children have rights!? He then goes on to further press the point by challenging slave owners to adopt a vulnerable and open relationship with their slaves. That must have taken courage in a time when the authority of slave owners over their slaves went unquestioned. Last he addresses the relationship between 'the spirits' that so often lead us powerfully into darkness and slavery, and the 'the Spirit' that brings us life and freedom. Of course we often teach Ephesians 5 in isolation from the Ephesians 6 (as if the way we treat our wives, husbands, children, and those who work for us has no spiritual impact), conversely we make the mistake of thinking that the armor of spiritual warfare has nothing to do with the words and actions that characterize our unity and love for one another...

You see, visionary, courageous, leaders can see what others cannot. What does God want you to see that others cannot?

Labels: Courage, Ernest Baartman, leadership, Methodist Church, vision