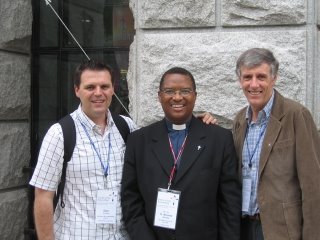 I was greeted by this great news this morning when I got back from my cycle! I know Mvume very well, he is a man of impeccable integrity, with a heart for the poor and marginalized. He was my Bishop for many years, and has also served as the Patron for Transformation Africa (one of the organisations in which I serve) for some years now! This image was taken in Korea a few years ago, from left to right are myself (Dr Dion Forster), Rev Dr Mvume Dandala, and Rev Trevor Hudson.

Well, this surely bodes well for a good opposition in South Africa! Just over a week ago we had a chance to interview Mr Lekota, who himself is a formidable individual. But, Mvume is a man of such deep faith a integrity. I may just be changing my vote this year!

Here's the first story from 'The Times':


Now here?s a surprise. The SABC has reported that Cope?s election list is headed up not by Mosiuoa Lekota or Mbhazima Shilowa, but by the head of the Methodist Church, Bishop Mvume Dandala. It?s yet to be confirmed, but it hasn?t been denied.
Wow.
It?s a bit of a shock given the high profile that Lekota and Shilowa enjoy within the party, but it could give Cope a totally fresh hand to play: Moral leadership. The Reverend vs the sexually deviant corruption accused. Might play well with middle South Africa.
As one caller to John Robbie?s Radio 702 talk show this morning put it: Does that mean that Mosiuoa Lekota will start another party?
From the SAPA story:

The head of the Methodist church of Southern Africa, Bishop Mvume
Dandala, has been nominated as the presidential candidate for the
Congress of the People (Cope), SABC news reported on Thursday.
In its Thursday evening news bulletin, the public broadcaster
announced that it had ?reliably learnt? that Dandala came out on top of
the party?s national list.
But party spokeswoman Palesa Morudu would not be drawn to verify
this on Thursday night, saying ?a formal announcement will probably be
made on Friday?.
Technorati tags:
Mvume Dandala
,
COPE
,
Elections
,
Dion Forster