Why I no longer use my Apple iPhone (as a phone), and have gone back to using my Nokia E90.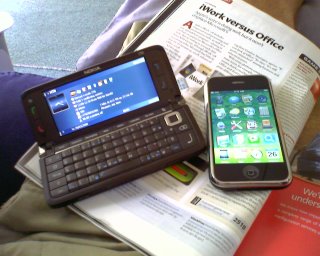 I am perhaps one of the most blessed geeks in the world. I own two of the world's most sought after, and svelte, phones - the Apple iPhone (mine is unlocked and runs on the MTN and Vodacom networks in South Africa), and a Nokia E90 communicator.

I used my iPhone as my primary telephone and PDA (personal digital assistant ) for some months It is smooth, it works well, and there is a huge 'hacker' community out there creating everything from games to tools for your shopping ! However, the downside is that is essentially a closed device (you can not use it with a bluetooth keyboard, or use it as a modem for your Mac!) The iPod features (particularly video) are unsurpassed! But, it is not a business device! Text entry is a bit hit and miss, and you can't film video or send and receive MMS.

My Nokia E90, however, is ALL business!!! It has an incredible keyboard, it JUST WORKS! The Camera is a REAL 3MP camera with a flash, it has wifi, built in GPS with SA Maps, and it has an HSDPA modem (i.e., 3G and a bit speeds) that can function as a modem for your PC or Mac via bluetooth or the cable. A huge bonus for me (as a Mac user) is that it syncs via iSync with Apple's address book and iCal!

I have done some trips where I have managed to do everything without a laptop and just with my Nokia E90 and a foldable bluetooth keyboard. Web browsing is not as smooth as the iPhone, and Video and MP3's are not even worth mentioning - although I have used the FM Radio quite often to fill a few minutes while waiting for a delayed flight (not that I am doing any traveling since I broke my leg just over a week ago).

The final clincher for me is that the Nokia posts to flickr and blogger via email without creating 'false line breaks'. The iPhone, on the other hand, seems to mess with he formatting (creating spaces, wrapping lines in the middle of sentences etc.)

So, for now, the Nokia is my primary 'work' phone because it simply works! When the days get busy and I don't have time to mess with fiddly keyboards and an interface that still needs some work, then the Nokia wins hands down! However, my iPhone goes everywhere with me (I use it to listen t music, podcasts, and browse the web via wifi in a hotspot - but it no longer has a sim card in it. It could actually just be a an iPod touch for how I use it). Together with those two I carry a Palm Treo 750 (with the Windows Mobile 6 upgrade). This has my private sim card in it, it also has my Bible software (including Greek and Hebrew), and it has the best keyboard of all of my phones (but the worst operating system, camera, and doesn't connect to my Mac).
Technorati tags:
iPhone vs Nokia E90
,
iPhone
,
Nokia E90
,
why I gave up on my iPhone
,
work Phone