My blogging equipment while in hospital (Pic)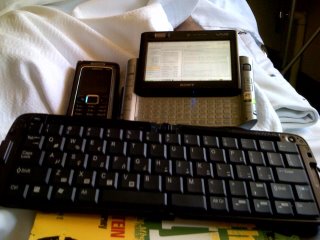 Here's a photo of my blogging equipment while I'm in hospital. Sadly the Macbook Pro (may she rest in pieces) died in the accident.
This photo was taken on my trusty iPhone. In it you see my tiny little Sony Vaio UX 180 palmtop, a foldable (cheap) Bluetooth keyboard, and my Nokia e90 miracle phone! I can coonect the phone to the computer as a 3G modem, and the keyboard via Bluetooth to either the phone or computer to reply to emails etc.
It is quite frustrating not to have my regular laptop! But, this forms a good substitute system. I can browse the web, respond to emails and even post to my blog!
The only downside is.... Windows... Well windows and the fact that this rig requires a surface to put the notebook and keyboard on (not easy in hospital). Can anyone guess what book is currently under the keyboard?
Luckily I did a timemachine backup of my Mac laptop the day before the accident, so if the insurance pays out I should be up to speed in next to no time!