The Million Zimbabwean Dollar home page! A spectacle of odity, and a testimony of collapse
If this wasn't so sad it would be funny! Please read the email below this post(that was posted as a comment to the blog by Steve) that shows just how sad this situation has become!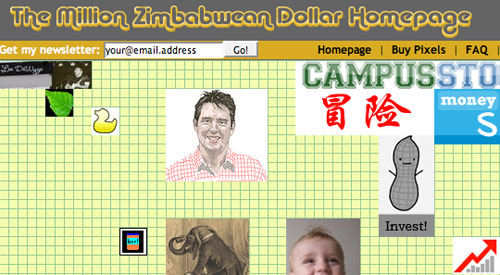 Mike says,
I created this website as a parody of the famous Million Dollar Homepage. The Zimbabwe dollar just crashed again last week and, on the black market, you can now get Z$20,000,000 for USD$1 (the official exchange rate is USD$1 = Z$33,000).

I cut prices from 3 cents per 900 pixels to 1 cent per 900 pixels because of the recent collapse. Unfortunately I have to charge an additional Z$1million (US$0.35) per purchase to cover paypal fees.
Here's a sad email that points out just how sad the Zimbabwean situation has become. Shame on you Thabo Mbeki for your stance of 'quite diplomacy' - in reality is is nothing short of 'quiet human rights abuses'! I believe that Thabo Mbeki will be remembered as a spineless, neurotic, racist person who not only killed millions by his CRAZY views on HIV / AIDS, but killed hundreds of thousands more by his unwillingness to do anything constructive about the Zimbabwean crisis...
Sometimes I am ashamed to be a South African...

Sent: 23 February 2008 04:54 PM
To: African Tears
Subject: 85 trucks of food

Dear Family and Friends,
Headline news on the propaganda mill one day this week was that three trillion Zimbabwe dollars had been raised for President Mugabe's 84th birthday party. I thought about what you could do with that much money but before I could work it out I had to check in a dictionary just exactly how much a trillion was.

My sources say that a billion is a thousand million and a trillion is a million million. This means that for the President's birthday celebration being held in Beitbridge, there is a pile of money which on paper is a 3 followed by 12 zeroes. Even in Zimbabwe's collapsed state, 3 trillion dollars is a huge amount of money. It didn't take long before my kitchen table was littered with bits of scrap paper covered with handwritten sums. Why didn't I just use a calculator you might ask? That's simple, there are too many digits and so this sum had to be done by hand.

The calculations took some time to perform and the results were shocking. For three trillion dollars I could buy three million kilograms of maize meal at the present Grain Marketing Board price of a million dollars a kg. This, of course, is assuming that the GMB had any maize meal for sale, which they say they haven't. Allowing half a kg of maize meal per person, 6 million Zimbabweans, half the population of the country, could have had one decent meal with the President's birthday party money. A friend who is far more mathematically minded than me, and had more patience with all those lines of zeroes, worked the figures out a different way. 85 trucks, each
holding 35 tonnes of maize, could have been filled with the three trillion dollars of birthday party money.

Moving away from the dollars, I went in search of ingredients usually found at a birthday party. Three major supermarket chains which have outlets all over the country were visited. The cake came first on my list but there was no flour, sugar, margarine, baking powder, milk or eggs in any of the supermarkets. Puddings and sweet treats were next on my list but there was no jelly, instant pudding, custard, biscuits or tarts to buy. Sandwiches, I thought, they are good for parties but there was no bread or rolls, no spread, cheese, cold meats or sandwich fillings to buy. What about a hot meal I thought but there was no maize meal, rice, pasta or potatoes and so that idea was also a non starter.

The shopping list and the search for ingredients was a pointless exercise but at least it was easier than trying to understand the latest official inflation figures. In January 2008 inflation was one hundred thousand, five hundred and eighty percent - it is the stuff of hellish nightmares and the reason why we parents can't sleep at night.

Trying to understand three trillion dollars was utterly absurd for an ordinary mum in a collapsed country. Hardest of all though was knowing that half the population of the country could have gone to bed tonight on a full stomach if the birthday party had been sacrificed for the suffering, hungry people of a country whose 84 year old ruler has been in power for almost 28 years. Until next time, thanks for reading, love Cathy.

Copyright Cathy Buckle 23 February 2008.
www.cathybuckle.com My books: "African Tears" and "Beyond Tears" are
available in South Africa from: books@clarkesbooks.co.za and in the UK from:
orders@africabookcentre.com
To subscribe/unsubscribe to this newsletter, please write to:
cbuckle@mango.zw


Technorati tags:
Robert Mugabe
,
Thabo Mbeki
,
Genocide
,
human rights abuses
,
complicit
,
shame