Mac is Back! [Replacement Apple Macbook Pro unboxing]
I can't tell you how pleased I am to write this post (on my replacement Macbook Pro)!

Those who have been following my blog will know that my previous Macbook Pro was smashed in a motorcycle accident two weeks ago.

A few facts about my old Macbook - I got it secondhand, it was already 'prescratched' since the previous owner did not really look after it that well. Having a less than perfect machine was quite sad, however, it was a worthy upgrade from my entry level Macbook. I need a machine that is quite powerful, it HAS to be a Mac, but must also be able to boot Windows XP and Ubuntu (some of the software that I run for teaching and administering student records only runs on Windows). My Macbook (a white core solo 1.67 Ghz with a Combo drive) served me well for about two years, but it was starting to show its age, and it was slow as all heck when I booted Windows in Parallels. So, when I was alerted to a Macbook Pro (advertised as 'slightly used') that was being sold to upgrade, I sold my Macbook, threw in a few extra Rand and made the jump!

I was certainly NOT sorry! With the exception of the scratches and a half dead battery the Macbook Pro was a superb upgrade. It was a Dual Core 2.0 Ghz with 1 GB or Ram, a 100GB hard drive, 256 MB or dedicated video memory, and that AWESOME 15" widescreen (1440x900!) - of course it also came with the backlit keyboard and a DVD writer. A few months later I had saved enough to buy a replacement batter and put in an extra 1GB of Ram, and so she was humming! I took that Macbook Pro with me to Malaysia late last year and it worked like a charm! It didn't skip a beat in presentations, in LONG, LONG, Skype video calls to Megie back in South Africa. In short it was my perfect companion.

I edited (and wrote) my two most recent books on the great keyboard, and posted hundreds of entries to this blog from the machine.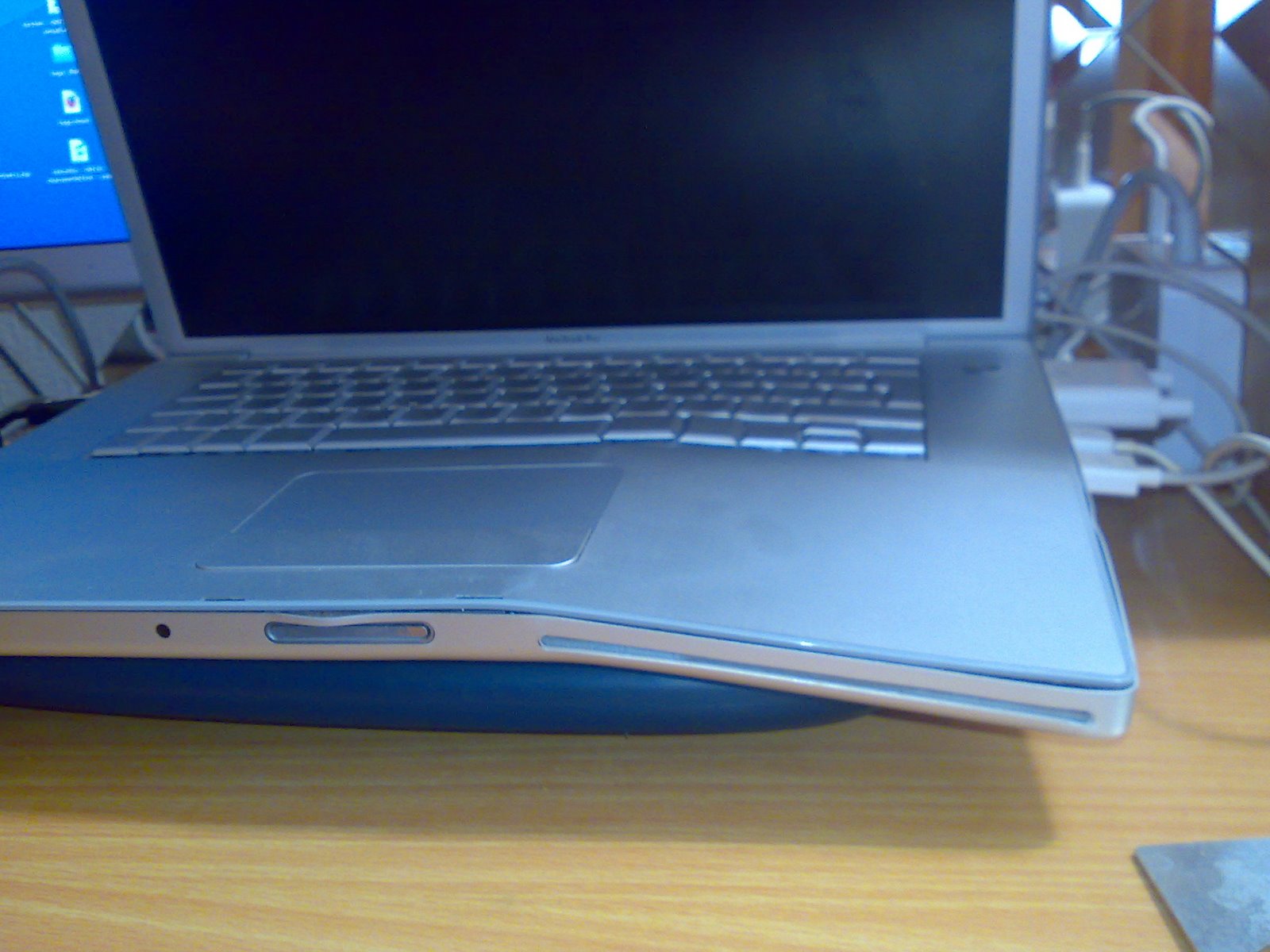 On the day that I was knocked off my Vespa I had taken the Macbook with me to the Radio Pulpit studios for a live radio broadcast. I run logos Bible software in Windows on the Mac (the University bought me a licence for the Scholars Gold edition, so I have hundreds of Biblical commentaries, Greek and Hebrew Bibles. So no matter what question a caller phones in with I am certain to be able to craft a fairly sensible, and scholarly accurate, answer to help answer it. So when the 4X4 hit me the Macbook was in my backpack and got all bent out of shape... It was a sad day indeed...

Amazingly even though the screen was smashed, the optical drive was crushed and the right hand side of the laptop was badly bent and broken, the machine still booted up!! I had, of course, created a Time Machine backup (as all good Mac users should do) just the night before the accident.

So, as soon as I got home from the hospital I contacted my personal insurance agents to find out how I can go about replacing the machine. They faxed me some forms which I completed, and then they asked me to courier the 'dead' machine to their offices in Cape Town. Within a day the claim was approved. So, I contacted the local Apple iStore (in Menlyn Park, Pretoria) to find out how much a replacement model would cost....

This was the only bad news... My Macbook was insured at the purchase cost that was set in 2006. The price of Macbooks has since increased substantially - so in short I would not be able to replace my Macbook with the same 'level' of Macbook that I had... However, the great people at Apple did some searching around and found that they had a few Macbook Pro's from their old stock in the warehouse that were for sale as demo models! So, for HALF of the price of a new Macbook Pro I was able to replace my Macbook Pro with a slightly better model (2.16 Ghz Dual Core) - it was still sealed in the box! It had not even been opened or booted! This truly is a gift from God!!!! With the money that the insurance paid out I was able to replace my crushed computer with a perfect replacement. This truly is a testimony to what we read in Paul's letter to the Ephesians 3:20-21.

On our way back from a checkup at the hospital yesterday I went to collect my NEW baby.

Here are a few pictures to drool over: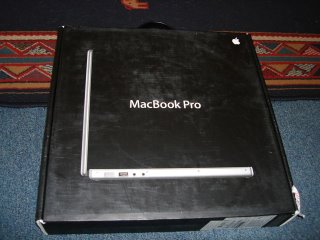 Here's a picture of the cool box (a bit dusty from the warehouse), but still stylish in true Apple form.

On the front is a profile picture of the 15" Macbook Pro, on the back is a picture of the keyboard and screen.

This particular model came with Apple OS X 10.4.5 (Tiger). My old squashedbook had Leopard installed on the drive. I didn't even bother booting into the fresh hard drive - I simply connected my external firewire drive (on which I had a Time Machine backup, and had created a bootable clone of my drive using a GREAT piece of free software called 'Superduper'. I booted onto the external drive, started Superduper from that drive and then selected the option to repair the permissions on the drive, and copy the contents of that drive onto my fresh Mac drive and make it bootable. Within an hour or so I was exactly where I had left off.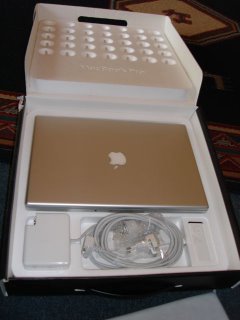 Here you can see the contents of the freshly opened box. Inside is the computer (which comes in a protective sleeve), a power supply, the frontrow remote, and the Tiger boot disks.

You may have noticed from previous posts of my Mac that it had a 'transfer' sticker on the front cover. The sticker was there to cover up some pretty ugly scratches on the cover (sadly these macs to pick up scratches fairly easily). Most of the scratches on my old machine were there when I bought it. However, there was one rather nasty scratch that I added when I was carrying the laptop and my watch strap made a groove in the cover... Very sad.

But, just look how smooth, new, and cool this cover looks! Not a blemish in sight. As soon as I can get back to the office I will get my slip cover (currently lying under my desk) to keep it pristine and beautiful for as long as possible!

Here' is the last picture of my new baby, open, and ready to get started!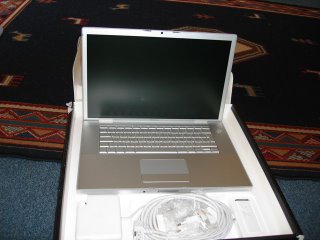 I must confess that I find the 15" a little large for regular 'portable' use. The sweet spot in terms of size was my 12" Powerbook (which Wessel Bentley now owns). That notebook is small, powerful, and a real little workhorse. The 13" Macbook (and I have also since seen the 13" Macbook Air) is just off size for me (not small enough to be a sub-notebook, and not large enough to be worth the extra 1" in size).

So, this 15" is the next best thing from the 12"... The extra size is made worthwhile by the great screen real estate - however, you do pay for that in weight and battery life.

So, I now have a replacement Macbook Pro (with a spare battery and two power supplies - since the insurance didn't want the power supply or the 'new' battery). I thank God for this machine! Since so much of my work and ministry has to do with words, communication, and writing, this is such a blessed and necessary tool.


Technorati tags: Macbook Pro, unboxing, a tool of God's grace, thankful