It's a slow and frustrating process... Stories of the 'bionic leg'....
Warning, don't scroll down if you're a bit squeemish

I had hoped to be out of hospital by now. However, the process of recovery seems a little slower than expected. I have had a (minor) setback in that I caught a 'hospital infection' in my leg, and so need to bget that cleared before I can be discharged. When the 4x4 hit me and my leg broke (either on impact, or as I fell from my old orange Vespa.... May she rest in pieces) the bone punctured through the back of my leg leaving an open wound. It is likely that I picked up the infection either in the ambulance or while being xrayed and stabalised in the emergency ward before surgery.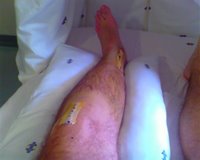 My leg is much less painful (now with added iron - in the form of a pin that runs from the left knee to the left ankle (sensible choice that, if it ran to the right ankle it would be extremely difficult to move ;-), it has a metal plate in the left ankle and a few screws in the ankle and knee), and I am already up and about on crutches (it's like riding a bike... if you'd excuse the use of that particular simile... as soon as they put the crutches in my hands the muscle memory returned, all those neural pathways relit, and I was hobbling up and down the corridor, over stairs, and around corners with ease). Sadly my fever has not yet come down (sitting at around 38 to 39 degrees C), it does at least mean that my body is putting up a good fight, and that the antibiotics are starting to fight the infection. So as soon as that is clear, and of course having had a day or so of o bservation, I hope to be home with my darlings Megie, Courtney and Liam.

It can be quite frustrating and humbling to be totaly reliant on others (particularly when one is accustomed to setting one's pace and be self-sufficient). But of course self reliance is not they way of Christ, who lives in a perichoretic self-emptying relationship in the Trinity. Neither is it the way of the Kingdom of God, to which interdependance and relationships are central. I constantly need to be reminded that my wholeness is as a result of the love and sacrifice of others (Christ died to give me life, people give of themsleves to offer care, support, and healing. I have to be humbled into receiving thse gifts, unworthy as I am to recieve them, in the knowledge that they are a gift from God who is the giver of all good gifts).

Please pray for me I learn, grow, and recover.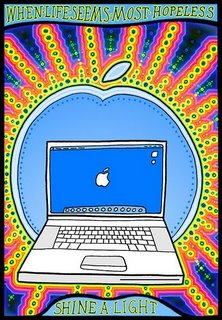 Thanks so much to Billy Fletcher who made my day by sending me this wonderful image of blessing and encouragement, with a Mac theme! Thanks Billy! It is now the centre of the desktop on my Windows machine, until I can replace my Mac. It leaves me with an eschatological hope, in find a realised eschatological hope (what is to come (a NEW Mac) is ALREADY a reality (the insurance is in place and it should be a simple matter of completing a claim), so all I have to do is take courage and find hope in the reality that already IS, but just remains to be seen - this sounds like a sermon Hebrews 11:1!

Blessings,

Dion