I have given back my Doctorate... I realised it was useless. I need one of these...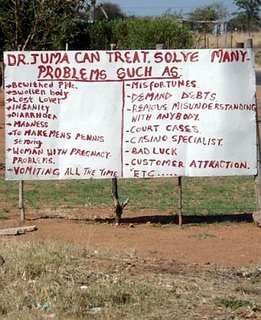 Yes, I have realized the error of my ways...

Years of study, late nights, early mornings. Typing until my fingers were nothing more than bloody little stumps, and what for!? It is all in vain! All those years of labour are worthless. After all, the only thing that I could do as a Doctor is to help a person whose one leg is 450 something pages shorter than the other to stand up straight by putting my thesis under the shorter leg ;-)

I never realized have grave my situation was until I saw this sing speaking of the wonders that Dr Juma (no that's NOT Jacob Zuma) can perform!

So, I have decided to send back my doctoral degree and work towards one of these!


PS. notice (both from the sign's appearance, and what he advertises) that spelling and sign writing are not among his specialties.... Perhaps we could offer him some assistance in that regard?