A healthy knee [sans stitches]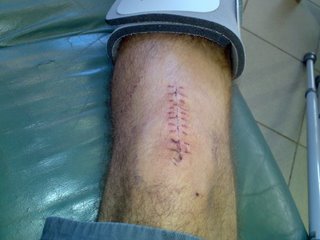 I'm waitng at the hospital for yet ANOTHER course of antibiotics! The specialist checked the infection in the ankle and feels quite positive that we'll have it all fixed up after course number 4 of the old 'anti-biotics'. Let's pray!
At least some of the stitches are out (in the knee and ankle), some will come out next week. So, I'm on the mend!
Thanks for all the care and prayers!
Dion
PS they started the repairs on my Vespa yesterday so I should have her back long before I can ride! And, the local Apple iStore phoned to say that I can make a turn to get my replacement Macbook Pro! How's that for swift service from my insurance (well done Alexander Forbes!)