Good times!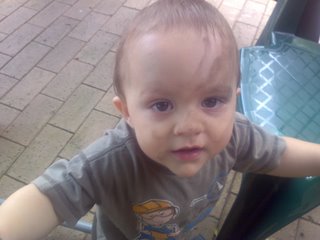 Yesterday we went to my sister in law's house in Bryanston for a lovely family celebration. Here's a picture of little Liam playing in the dirt!
It was my mom in law's birthday, but when we got there we also discovered to more surprises. My brother in law, Craig, surprised us all by arriving from the UK, and my sister in law, Gwen and her husband Rhys, announced that they were expecting their first child.
Community is important - it shapes and defines us. Our relationships help us to discover more truly who we are, and to whom we belong. This notion of intersubjective identity is very African. In the 'West' we tend to rely on objective factors to determine our identity (i.e., we identify oursleves by objective factors such as what we own, where we work, what gender or race we are etc.) In the 'East' many persons rely on subjective identifiers (i.e., identity based on apiritual and psychological reality). In Africa, however, we discover our identity not just through static objective or static subjective aspects of our being, but more precisely through intersubjective encounters (i.e., our relationships define who we are over a period of time - our 'subjects' interact with one another).
This is, in my view, also the Christian Trinitarian model of identity. The persons of the Trinity are identified by their living relationship with one another.
Yesterday I became more fully human, more completely myself, as I interacted with those significant others who shape my life and living.
Thanks be to God for special people and special events...
PS. My leg has been up in the air for the past few days - sadly I am struggling to shake the infection. It is just a little sore!