'God is Gay' minister to marry same-sex couples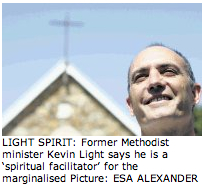 The article below appeared in 'The Times' newspaper on Sunday. Kevin is a very close friend of mine. He and I have worked together on a number of projects. Most recently he has written two chapters for two of the books that Wessel and I have worked on.


I am proud to call Kevin a friend, and I am proud to testify to his Christian conviction and love for Jesus Christ and ALL people who Christ loves!


I'm with you Kev! Your courage inspires me.
For the readers of this blog -
Please read the last paragraph in the article!
You will notice that the whole point of Kevin's 'God is gay' breakfast is to show that God is not gay.
It is so sad that this is one of the reasons why Kevin had to resign from our Church. What he is aiming to do is Christian mission - sharing God's love with persons that the Church seldom reaches out to... Yet, sadly because of this missional emphasis he was misunderstood. He has been badly treated as a result. I find this so sad. Sadly, I fear that this article will cause him to face further misunderstanding and struggle among Christians. Personally, I am proud that we have persons who are bold and courageous enough to take a stance of conviction to reach to those who are marginalized in society, and even the Church.
A FORMER Methodist minister who rocked the church when he questioned its stance on gay rights is now encouraging people to find God in food, pubs and even poker games.
Kevin Light and 18 other ministers questioned the Methodist Church's position at a synod in September last year ? to no avail.
He left the church a month later, after Andrew Hefkie, the Cape of Good Hope district bishop, banned him from talking to the media after he hosted a talk called "God is Gay".
"About 30 minutes before I was to be interviewed by a radio station, the bishop called me and instructed me not to speak to the media," said Light.
Now his vision of being able to bless same-sex marriages is about to be realised. He is set to receive his licence to marry gays and lesbians next month.
According to the Department of Home Affairs, 935 gay and lesbian couples tied the knot in South Africa last year, when there were only 35 religious officers licensed to conduct same- sex marriages.
Ministers can only obtain a licence to bless same-sex unions with the consent of their denomination and the Methodist Church, like most mainstream churches in the country, has chosen not to endorse these marriages.
When approached for comment, Hefkie was tight-lipped.
"It is not the policy of the Methodist Church to make any comments on people who resigned. He (Light) finished off, and that was that," he said.
Said Light: "As a minister for 19 years I wanted to honour the church. On the other hand, I needed to honour my own clarity on the matter ... My position on same-sex unions is a matter of human rights.
"I thought I was caring for the marginalised ? and then the church went and marginalised me."
Today, he refers to himself as a "spiritual facilitator", with a growing following who seek an alternative to institutional religion on mountains, in forests and even in pubs around Cape Town.
"Cooking is very spiritual for some people. Other people encounter God while gardening or while having a drink.
"We also have 'poker for the poor' nights. Poker can be a very spiritual experience; it's all about getting to know your dark side ... your ability to bluff.
"But poker can be greedy, so we have the winner spend his or her earnings on poor people," he added.
Light is hosting another "God is Gay" breakfast later this month. "The talk merely makes the point that God is neither gay or straight ," he explained.
Technorati tags:
God is gay
,
Kevin Light
,
gay Christians
,
same sex unions
,
friend