Which team will God support in the Rugby World Cup Final? A theologian gives a difinitive theological answer (with diagrams!)
So, many people have been contacting me to find get my 'expert (as if) theological opinion' about Saturday's World Cup Rugby final between South Africa and England. Most wanted to find out if I know which team God will be supporting in the World Cup Rugby final between South Africa and England tomorrow?

Well, I did a bit of research, naturally I prayed and asked God, then I read the Bible, I went back and read the Patristics, St Augustine, St Thomas' suma, Calvin's institutes, Luther's commentaries, Wesley's Journals - heck I even read a bit of Karl Barth, some Stanley Hauerwas, Karl Rahner, and a bit of Brian Mclaren to find the answer.... I even called a special meeting of the Methodist Church of Southern Africa's Doctrine Committee (DEWCOM).... Then I consulted two of the best Theologians I know, Wes, and Pete (p.s. Pete managed to snap a picture of how the Rugby players greet one another! It's amazing! Go take a look!)

Here's what I found.....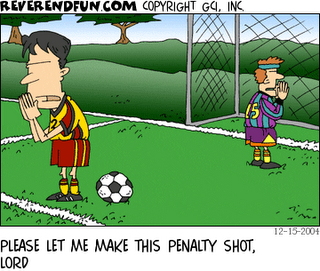 It seems that there may be some English Christians 'running interference' with our Prayers for the Boks to win!!!! PRAY HARDER!!!! ha ha!!!

Well, all I can say is: MY BLOOD RUNS GREEN!!!!! GO BOKKE!!!!

Oh, and what team will God be supporting...???! Come on, if you lived in Cape Town (as God does) you would only support ONE TEAM! We all know God is a Stormers supporter in the leagues, and a Springbok supporter internationally! Even God is wearing Green today!!!! ;-)


Technorati tags: Rugby, World Cup, Final, Prayer, Springboks
Labels: Rugby, Springboks