Thanks everyone! We're number 3 in 'Religion'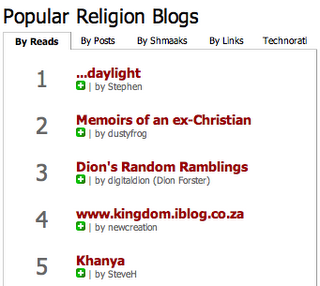 No, this is not some cryptic Church growth methodology! Neither is it some kind of weird inter-religious competition!

Rather, it is simply a quick post to say thanks to everyone who is checking in on my daily posts! Your efforts have made this site the 3rd most popular blog in the Mail and Guardian's blog Rankings! How about that?

What I love about www.amatomu.com is their 'truly South African' way of ranking blogs, simply click on the schmaak this button to say that you enjoy it! For those who are not South African, 'schmaak' is slang for 'love it', or 'cool', or something like that...


Schmaak this blog!







Thanks everyone! Keep the love coming!!

Jenny, thanks for pointing me to amatomu.

How would you feel about reading posts from some other, more enlightened, and faithful, Christians? If I were to approach and sign up a few contributors would you enjoy reading thoughts, ideas, rants, ramblings, and insights, from others? Drop me a line and let me know!

Blessings,

D
Technorati tags: amatomu, South African Blog, Mail & Guardian, popular, thanks