Pictures of me 10 and 20 years ago... BOY, I was young (and reckless)
Steve tagged me with a 10-20-30 meme (Steve, sorry to take so long to do anything about it! It'll be posted here soon).

So, last night I though, rather than just putting up text about what I was doing 10, 20, and 30 years ago I would try to find a few photographs. I couldn't really find any that related specifically to my life in October / November of 1977, 1987, and 1997, but I did find a few photographs from periods inbetween. I thought they may be a bit of a hoot.

Let's go all the way back! This photo was taken around 1986 I was 14 or 15 and already a REAL problem child! My parents had their own parking space at the local police station, I could identify most banned substances by smell, taste or proximity, and... well say no more, except that I was the child you warned your kids about...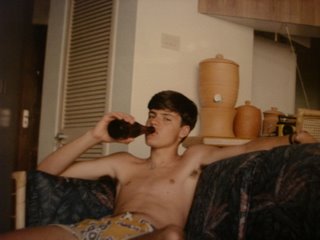 The picture below was one with my school friends, Graham, John, myself, and Neil. This was our highschool band, probably taken in 1985 or so. We played at school 'discos', some pubs etc. It was a lot of fun... We got up to some mischief. Look at those skin tight jeans!? Heck, how things have changed!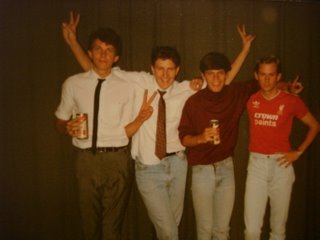 This picture was taken a few years later. I had come to faith in Christ. I will write more about that in the 10-20-3o post. That even was truly the most significant event in my life. However, in this picture I was an undergraduate student (as you can see by the hair!) Our band was called 'The Rockets' (I think) we had a lot of fun, but we sounded awful!!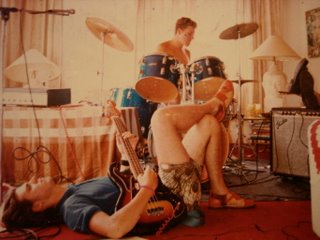 This next picture was taken during my stint in the army. My nickname was 'Prophet' because I was always trying to tell people what God's will was for change and transformation.... Nothing much has changed! I ran a campaign called "I'd rather have a shovel" - I tried to convince my fellow troops, and commanding officers, that I could do a lot more good with a shovel than a gun... "Send me into the township with a shovel, and I'll plant trees". They didn't like me much in the army. The security police visited my parents and questioned my brother since I was a member of the United Democratic Front (a grouping of policital parties like the ANC, IFP, and PAC that were banned in South Africa at that stage). If I had the courage I should rather have gone to jail than go to the army... At that stage all white males in South Africa had to do 2 years of military service, if you refused to go you would be jailed for between 4 to 6 years. But I didn't have the courage to match my conviction... Quite sad really. So these kind of antics were my 'small' protest to the apartheid military system... I should have done more.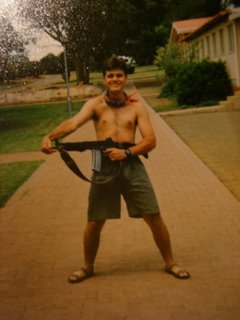 This picture was taken in my first year in ministry (1991), see if you can spot me... I am the 'little head' in the back row on the right, behind a young and thin Paul Verryn (count 3 heads from the right for Paul, I am the next head along) - I was staying with him in Soweto at that stage. Those were heady times! I learned a lot about society, culture, and justice in those years.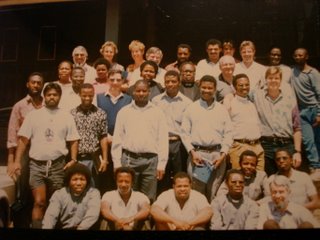 This next one shows me in Carletonville / Fochville in the North West (or is that Gauteng) province? I was invited by the Mayor to do a prayer for a new set of buildings the outgoing town council had erected in an attempt to spend the money from the previous 'white' authority, so that there would be no money left when the multiracial authority took over the following year. They asked me because I was young and English, and so they thought it would placate the new black members of council. In my little talk I asked questions about the money, where it had gone, how it was spent, and whether the community had a say in it. My prayer was a prayer of repentance for injustice. I was not invited back....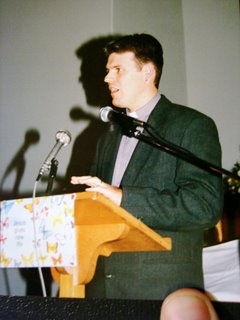 Shortly after this I was moved to Grahamstown where I continued my studies doing an Honours and Masters degree before leaving Grahamstown for a post in Cape Town.

I'm sorry for the quality of the photos, some of them are OLD!