Last class... Leavers Service... Some courses... Some leave... A new year!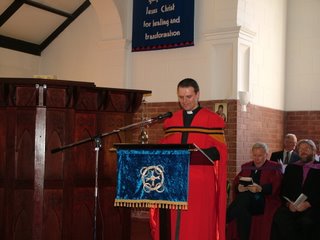 Today I taught my last class for 2007 (well, I will still have some sessions and presentations before the year is done - see below) - but this was my last 'formal' class for the year.

This is just a quick reminder to all our Methodist colleagues that we have approximately 250 Probationer ministers writing exams over the next three weeks. Then, I am always praying for the UNISA and University of Pretoria students I have taught this year (a further 250 Ethics 1 students from UNISA, and about 50 New Testament students from UP). Please pray for all of these people! For clergy examinations are seldom about getting a qualification, rather exams are about learning how best to serve God and God's people (well, at least I hope that is what it is about)!

Next year a brand new batch of bright, gifted, and committed students will arrive to be shaped for ministry. [Boy, I am so optimistic tonight! Perhaps it's because I got my car back from the garage, they had to replace the onboard computer on my 1 year old Polo TDi... The car has been nothing but problems since I bought it. Anyway, it seems to be going fine now! Heck, I say that we should all just drive Orange Vespa's!]

Between now and when we close just before Christmas we (the Unit) will be training lay leaders (Circuit and Society stewards), Bible Women, Evangelists, Superintendents, District Supervisors of Studies, preparing for new students coming into Phase 1, helping students who are transitioning from Phase 1 to Phase 2, and Phase 2 to Phase 3, writing materials, designing courses, and of course taking a few days leave (Megie, Courts, Liam, and I will be going to stay with our friends Graham and Lauren Power at Thiesens Island in Knysna between the 18th and 27th of December. I can't wait!) Then, the cycle of the year starts again. It is quite satisfying in many ways.

Tomorrow evening is our College Valedictory service and leavers' dinner (Wessel will be there in his brand new Doctoral gown!) Rev Dr Jenny Slater (the Dean of Students from the Catholic Seminary, St John Viarney in Pretoria) will be the guest speaker. I will try to record her talk and post it here.

Thanks to my students, you are truly great colleagues! You have made this year so memorable and blessed. You are a gift to the Church, each one of you!
Labels: John Wesley College, teaching